Prof. Wang Lixian Attended the 101th Annual Academic Meeting of the Japanese Society of Swine Science
Source:
Author:Wang Ligang
Date:2014-12-17
Recently, Professor Wang Lixian, principal scientist of the Innovative Team of Pig Genetics and Breeding in Institute of Animal Science, CAAS, was invited to attending the 101th Japanese Society of Swine Science (JSSS) annual academic meeting by Toshio Yoshida, president of JSSS and professor of Azabu University.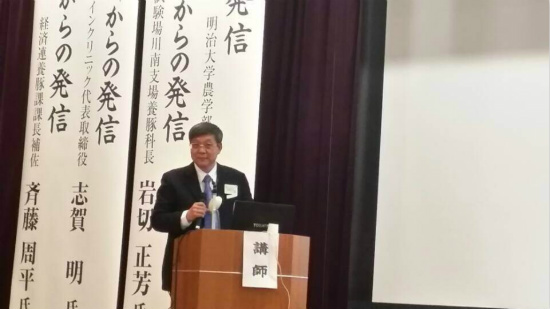 For about 100 years, the JSSS was devoted to the improvement and popularization of pig production technology. The annual academic meeting of JSSS is one of the most important meeting for Japanese pig production scientist. The Chinese famous scientist, Prof. Zheng Peiliu from IAS,CAAS, was one of the honorary members of JSSS.
When attending the 101th JSSS annual academic meeting, Prof. Wang Lixian talked with executive director of JSSS about the improvement of pig industry, and made a presentation to all the members of JSSS about the development status of pig industry and pig resources in China. The presentation has been translated into Japanese and has been published on the Japanese journal of swine science.